WNBS NEWS, December 19, 2014
TRUCK OVERTURNS FRIDAY MORNING
The I-24 westbound entry ramp from US 68/KY 80 at Exit 65 for Cadiz is restricted at this time due to an overturned SEMI. The truck rolled over as it was making the turn to enter the ramp form US 68 to head westbound on I-24. The recovery crew has determined that the truck will have to be off-loaded before they can attempt to upright it. It may take 4 to 6 hours to remove the load of auto parts. The ramp from US 68 to I-24 westbound is expected to remain open during the unloading process. It would likely need to be closed for about 45 minutes at some point to allow removal of the truck.
MURRAY MAIN STREET HOSTS MEETING
On a day when new Murray Mayor Jack Rose and two new city council members took the oath of office, Murray Main Street hosted a town hall meeting seeking public input on the future of downtown. This past year was a challenge after a building collapse on 4th street, fire at a business on South 5th street, and another business that sustained a partial roof collapse on South 4th Street. Almost 100 people attended Thursday's meeting and addresed a variety of concerns. Murray Main Street sent out surveys to help narrow down the topics discussed in the meeting.
MHS BAND STUDENTS HONORED
Last weekend, over 900 students from all over Kentucky auditioned for the Kentucky Music Educators Association All-State Band in Elizabethtown. Murray High School received three band student recommendations and all three students were selected by blind auditions. Selected were Prashant Chakradhar, 1st chair Euphonium in the State; Ryan Wezner, 3rd chair French Horn in the State; and Anna Cate Brown, 3rd chair Bassoon in the State. Murray High School Band Students auditioned in late November and early December for KMEA's First District Honor Band. The students prepared musical excerpts for their blind auditions. Selected to this prestigious group were Alexander Gaddis, Wendy Waltrip, Cami Hoots, Mariah Lyons, Luke Armstrong, Bailey Wells, Raegan Stone, Josh Howe, Meen Thawainin, Brendan Parker, Tahn Thawainin, Megan M. Wilson, Nate Wray, Minuk Kim, Tyler Robinson and Austin Cobb.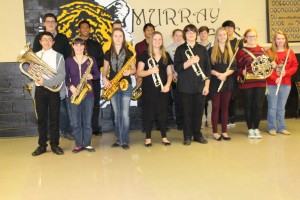 MID-CONTINENT LOSES ACCREDITATION
Mid-Continent University is no longer accredited. According to the commission in charge of carrying out that process said the fact the school isn't offering classes means it isn't in compliance with several of the accreditation requirements. Mid-Continent Board of Trustees Chairman Tom Butler said he doesn't know of any plans to file an appeal. With this decision, Mid-Continent wouldn't be eligible for state or federal financial aid. The school could continue to operate, separate from SACS, and re-apply for accreditation.
HOME CARE PARTICIPATES IN FESTIVAL OF TREES
Staff with the Home Care unit at Murray-Calloway County Hospital recently participated in Emeritus of Murray's annual Festival of Trees. Staff members decorated a tree which was put on display at the facility. Picture with the decorated tree are some of the staff who prepared the tree: Tammy Sullivan, Jeni Harrison, Leslie Sanders and Ann Clark.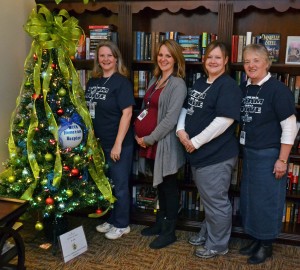 IN AND AROUND KENTUCKY
Kentucky officials say the state's unemployment rate dropped to 6 percent in November, the lowest rate in more than six years. The state Office of Employment and Training said Thursday that last month's seasonally adjusted rate was down from a revised 6.2 percent jobless rate in October. Officials say last month's rate was Kentucky's lowest since April 2008, when the rate was 5.9 percent. The trade, transportation and utility sector added 2,300 jobs in November from a month earlier. Manufacturing jobs in the state held steady from October to November, while employment in the mining and logging sector dropped by 400 in November. The preliminary November rate was 2.1 percentage points below the state's 8.1 percent jobless rate in November 2013.
Kentucky State Police Commissioner Rodney Brewer announced Thursday that the agency's 'Cram the Cruiser' food drive netted 232,011 pounds of food statewide. Brewer initiated the program in 2010 to assist needy families in each post's local areas. Since that time, the agency has contributed more than 500,000 pounds of food to shelters, food banks and churches across the Commonwealth. Brewer said the campaign has developed into a friendly competition among KSP posts to see which location can collect the most food. The Harlan Post is the reigning champion this year with a total of 43,825 pounds of food collected.
The Kentucky State Fair brought home numerous awards from the International Association of Fairs and Expositions Convention in Las Vegas, including two that involved Kentucky Department of Agriculture programs. The fair placed second in the agricultural awards program for the Kentucky Farm to School Junior Chef competition, in which high school cooking teams from each of Kentucky's 16 regions meet to determine the state champion. In the competitive exhibits awards division, the fair earned second place for the department's Homegrown By Heroes display in the West Hall of the Kentucky Exposition Center. The Kentucky State Fair also took first place in the competitive exhibits awards division for the 4-H Cloverville Country Ham exhibit and won third for the fairy garden category in the plants and flowers department. The fair won a second and two third-place awards in the communication division.
The Kentucky Fish and Wildlife Commission proposed the dates of the 2015-2016 deer seasons and numerous changes to deer and elk regulations in the state at its quarterly meeting on December 12. Commission members proposed allowing resident hunters 65 or older to use crossbows during the entire archery deer season as well as deer zone changes for Hopkins, Larue, Green, Nelson, Bullitt, Grayson, Ohio, Breckinridge and Allen counties. They also recommended modifying deer hunting regulations on 10 wildlife management areas and on Otter Creek Outdoor Recreation Area. The commission also recommended several changes to elk hunting management as well as instituting a new landowner voucher permit system. All recommendations must be approved by legislators before they become law.
An infant who was in the back seat of a car stolen in Florence is home safe. An AMBER Alert was issued Thursday evening but canceled a few hours later when police found the 20-day-old in the abandoned vehicle at a gas station. Investigators say the car wasn't running but was still warm when they arrived. Police don't have a description of the suspect.
A former employee of Time Warner Cable is accused of exposing and touching himself in front of a customer's seven-year-old daughter. Investigators say the incident happened in July while Bradley Brooks was working in the basement of a home in Lexington. Brooks told police the girl must have seen nude pictures of him on his cell phone, but it was determined that she would have had to scroll through more than 20 pictures to find them. Brooks is also facing charges for driving under the influence following a crash on Wednesday.
There are 12 confirmed cases of the flu in Lexington and health officials say that number is higher than normal. According to the Lexington-Fayette County Health Department, the state had similar numbers last year, but Lexington only had one confirmed case at this time. Kentucky is one of nine states where the flu is considered widespread, which is the highest level.
Police have charged a woman in the death of a Boyle County toddler earlier this year. Shila Raley was taken into custody on Thursday. She's the step-grandmother of the little girl, Alexa, who was staying with her father at the time of her death over the summer. Raley is being held without bond at the Boyle County Detention Center.
Flu season has come early for Kentucky. The Fayette County Health Department tells WKYT it's already seen a lot of activity. Twelve cases of flu have already been confirmed in Fayette. Health officials are urging people to be proactive, and to get a flu shot as soon as possible.
The Tennessee Bureau of Investigation is resuming its role in the Holly Bobo murder investigation. On Wednesday, the agency said it was severing ties with the 24th Judicial District at the request of District Attorney General Matthew Stowe, who accused them and other law enforcement agencies of misconduct. The TBI announced yesterday that a compromise had been reached and it would resume work in the district. A special prosecutor is being requested for the Bobo case.
Nashville is getting a national award worth 35-thousand dollars for its strategy to restore the health of waterways damaged during the 2010 flood. Mayor Karl Dean says the money will be used to build on activities already underway to prevent erosion and flooding from causing further damage. Since the historic flood, more than seven-thousand trees have been planted and 60 rain gardens have been created throughout the city.